Cupcake Day for United Way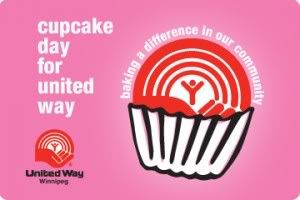 United Way of Winnipeg and The Cupcake Corner are teaming up to create a sweet deal for Winnipeg.
For every dozen delicious, gourmet, mini cupcakes ordered by Tuesday, November 17, The Cupcake Corner will donate seven bucks to support United Way's work in our community.
Cupcake Corner you ask? It's that little place in Osborne Village, formerly the Cupcakery. Rumour has it some outfit in Toronto already had the name and didn't think Canada was big enough for two of them to exist.
Dreams of going national with a chain of franchises, delusions of grandeur…whatever the case, Winnipeg's cupcake place has been forced to re-brand and a Cupcake Day is just what the doctor ordered. Not only is it great publicity, giving them a nice boost after being forced to change logo, website, business cards, packaging, but it does a heck of a lot of good for Winnipeg, benefiting an organization that supports fantastic work in every corner of our city.
You can check out United Way's website for more details, but it looks like all you need to do is download the order form, get your co-workers, friends, clients to submit their orders, and send the form with payment over to United Way. They'll do the rest.
And the icing on the proverbial cake…your entire order will be delivered right to the address you've specified on the order form on Cupcake Day, Thursday, November 19.
Apparently Curve 94.3 is promoting the event all week and will broadcast live from Confusion Corner (Burger King / Dollarama parking lot) on Cupcake Day where Sarah & Jay will have cupcakes along with free coffee and newspapers available for your $15.
Each dozen comes with 6 Vanilla and 6 Chocolate cupcakes with a mix of their all natural frosting flavours–chocolate, peppermint, mocha, lemon, strawberry, banana (the latter made with real fruit).
Do yourself a favour, and score a win in the 'Peg. Get your mits on some of these sweet little treats and help the Cupcake Corner bake a difference in our community.