Recipe: Sweet Potato Lentil Soup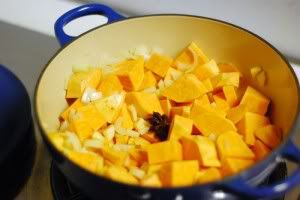 Ingredients
1 1/2 cups dried red lentils
3 medium onions, chopped
3 carrots, peeled and chopped
2 leeks, greens removed and whites chopped
2 Tbsp olive oil
1 Tbsp butter
2 tsp salt
2 medium sweet potatoes, peeled and chopped
1 tsp powdered sage
2 bay leaves
6 cups vegetable stock
1 tsp Marmite, dissolved in 1 cup warm water
Directions
Rinse lentils and put in large bowl, covering with at least 4 inches
of cold water. Let stand for 1 hour. Meanwhile chop vegetables.
In a large pot sauté onions, carrots, and leeks in oil and butter over
medium heat for 8-10 minutes adding 1 tsp of salt during cooking.
Add the sweet potatoes and sautee 3-4 mins. Drain the lentils and add
to pot with sage and bag leaves, stirring thoroughly.
Add the stock, Marmite solution and remaining tsp of salt. Simmer
partially covered stirring occasionally for 45-60 minutes or until
sweet potatoes and carrots are soft.
Serve as is or for a thicker texture purée half the soup in a blender and combine.
Do you have a kick-ass recipe you'd like to share. Drop us a line.