College Kids Crowned Iron Chef at Centrex 2011
There's a new star in an already stellar lineup of culinary talent in Winnipeg. But eager new fans can't flood to her restaurant. Not yet. She's still in school!
The calm, collected and eponymously cool Claire Snowball (centre) led Red River College culinary institute classmates Taisa Antoine and Brent Genyk to victory over some of the city's brightest, boldest and most seasoned chefs.
It all took place this Sunday through Monday, March 20-21 at Centrex, the Manitoba Hotel Association tradeshow at the Winnipeg Convention Centre.
In the first round robin of Sunday, the student team upset the proverbial apple cart by carving out a 1/2 point win over Bistro 7 1/4 in battle coffee. A surprise to all, they exercised every technique in the textbook including the creation of coffee caviar using a molecular gastronomy trick that combines sodium alginate with the main ingredient, and dribbling it into a calcified water solution that instantly creates an encapsulating skin.
Bonfire Bistro ousted newcomer Segovia Tapas Bar in the second round robin using a selection of Big Rock Brewing's best beer (yeah, baby) as the secret ingredient.
Then reigning champion Ben Kramer and the Diversity Food Services team turned the tides against The Current in battle balsamic to advance to the semi-finals. They were joined by Provence Bistro who defeated Chef Justin Bohemier's team from La P'Tite France in battle maple syrup.
Monday started out with competition favourite Diversity Food Services going toe to toe against Bonfire Bistro in battle tofu. Ben and his team used every tool (and I mean every tool) at their disposal including an immersion circulator for a chicken fat tofu sous vide and a smoking gun. But in the end Diversity couldn't beat the heat of an uber focussed Bonfire Bistro who advanced to the final only by a two point margin.
The relatively green students of Red River faced off against the well seasoned team from Provence with cabbage as the secret ingredient. Expecting the country club based Bistro's coconut braised pork cabbage roll and candied Brussels sprouts to tip the scale to their favour, the college kids prevailed in the cabbage match, winning their place in the finals by four points.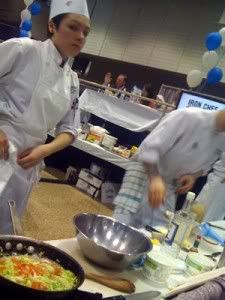 There was no time to celebrate. The teams were given their next ingredient, frozen peas, and less than half an hour to prep. Both quickly found their focus (in spite of certain bloggers sticking cameras in their faces and asking about strategies).
Red River were first to plate a pea soup with honey yogurt as Bonfire worked on a fish cake, and fresh pea pasta with chicken. It was plate for plate for a while, but with eight minutes still on the clock, Bonfire announced they'd plated all they had. Five plates. But if we've learned anything, it's usually quality not quantity that counts, and it's no easy task to achieve both.
Red River were still going strong, with six plates presented and three more in the works with as many minutes remaining.
They managed to deliver on two, but the clock caught them before their green pea panna cotta, the competition's only dessert, was ready. Nevertheless they had an astounding 8 plates to representing them at judges table.
It wasn't long in deliberation. Contestants gathered, crowds coalesced and jaws dropped as Pay Chen, emcee and host of CityTV's Breakfast Television delivered the verdict. By five points, the Red River College student team triumphed, taking home the title Iron Chef Winnipeg 2011.
Huge props to all the teams who competed, and Kelly Cattani and Melissa Hryb for organizing another wildly successful event.