Winnipeg's Food Truck Rennaisance
Some of my fondest memories are of standing in line at the chippy van for a sheppie (a deep fried shepherd's pie), or losing my nut at the dulcent tones of the ice cream truck and raiding my mum's milk money jar to secure a a 99er (a soft-serve cone with a Cadburry's Flake stuck in it).
While we've always had some sort of vehicular vat of fat procuring brown food, a rolling refreshment Rennaissance has been sweeping the nation of late. Food trucks are the hot ticket item, with TV shows like Eat St. and the Great Food Truck Race in endless production and syndication.
While Wiinipeg has been a little slow off the line, it is picking up speed and we thought it might be cool to highlight the current contenders.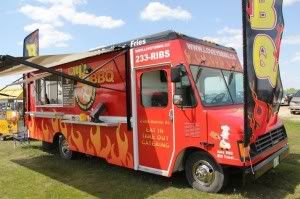 Lovey's Kitchen on Wheels (KOW)
You gotta hand it to Roger LeBlue. Not only has he created the most authentic southern barbeque experience in the city in the form of Lovey's, in the few short years since opening his restaurant in St. Boniface, he's managed to launch a take out window at the Goldeye's Ballpark, a Lovey's express location at 405 Turenne Street and a kithcen on wheels.
This unmistakable fire engine red rolling commissary shows up at all kinds of festivals and functions, but most often can be found pleasing crowds of Broadway lunchers by bringing pulled pork to the people.
As well as their signature smoky pork on a bun, they also have roasted chicken wraps and occasional daily specials. When available and not to be missed is Lovey's pulled pork poutine.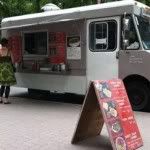 JT Springrolls
The godfather of the food truck movement in Winnipeg, Tuan Tran started his spring roll business in 2001 with help from an asset building program offered through SEED Winnipeg (a United Way agency partner).
Tran's speciality is of course the spring roll, a family recipe which inspired the idea for the business. But he also serves amazing Vietnamese subs called Banh Mi, a new and emerging darling of the foodie world.
But his eggrolls, sweet-and-sour pork balls, pork kabobs, fried rice, and shanghai noodles are equally as delecatble.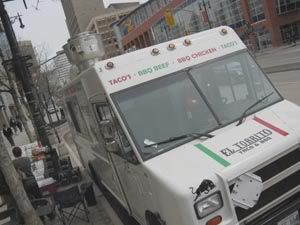 El Torrito Taco Truck
Arguably one of the most exciting events in the last year was the arrival of real deal Mexican street food. These two amigos, Jorge Torres and Ian Bowman, did their research. They worked their way through a series of south of the border resorts before learning the ropes of road food from the mobile munchy pros of New York City. Then they brought the concept to a big white truck oft parked on Portage Avenue or Henderson Highway.
Curb side they serve tacos. The flavours are distinct, lively and clean. Beautifully balanced, nothing overpowers. Fragrant, floral cilantro balances the smokey savory meat. The acidity of lime and sweetness of tomato burst with freshness, and the mild bite of onions fades on the finish to reveal a subtle and delightful hint of heat from the chilies. These are some of the best tacos to be had in Winnipeg.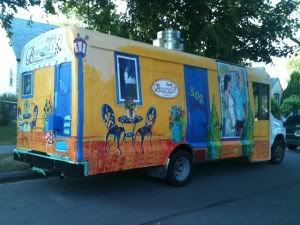 Beaujenas
The newest addition to our food truck fleet comes from the surprising source–Beaujena's. This brightly emblazoned Bistro in a bus is painted to match a new mural that adorns their 302 Hamel street resto and presumably procure more of the incredible Mediterranean inspired cuisine chef Randy Reynolds is famous for.
They have yet to announce its menu or official pole position moment (sometime next year), so in the meantime, head over to the resto which remains a weekends only affair and is well worth booking way in advance.
Goldie's Fries RIP
Last but not least, it wasn't that original, but it was a Winnipeg icon. Work of art, labour of love…Fry guy Darryl Leimen lost his livelihood to an unfortunate fender bender.
The MPI settlement only allowed him book value of the old truck, which didn't even begin to account for kitchen equipment that would run to the tens of thousands to replace.
Check out the Winnipeg Free Press homage to the Goldie's Fries truck and be sure to grab a dog from Darryl who's still doin' his thing from a rented hot-dog cart in the same Exchange District spot.
And if you think Darryl got a raw deal, sign Savour's online petition to bring back Goldies by commenting below.
Related Reading
Great article in the New York Times about a fellow who fashions food trucks from the ground up. Worth the read…check it out.
A signature Bartley Kives rant about restrictions on street food vendors in the Winnipeg Free Press article City's food rules make me gag.