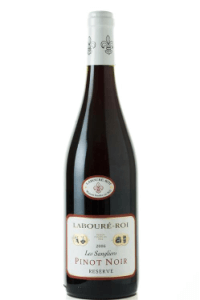 Every Wednesday, Savour Winnipeg wine editor Alec Stuart shares a few tasting notes from some his latest and most exciting discoveries. This week it's Laboure-Roi 'Les Sangliers' Pinot Noir.
Drinkable, cheap Pinot Noir is a rare thing, but it's great for a large gathering like a dinner party and this wine fits the bill both figuratively and literally.
For $12 at your local MLCC, you get an easy-drinking, light red that should pair well with most foods aside from beef or game.
This French pinot doesn't feature as much acidity as I usually like, but it holds hints of earthiness on top of some very smooth blackberry flavours. In summary, a pretty tasty red and a reasonable price.