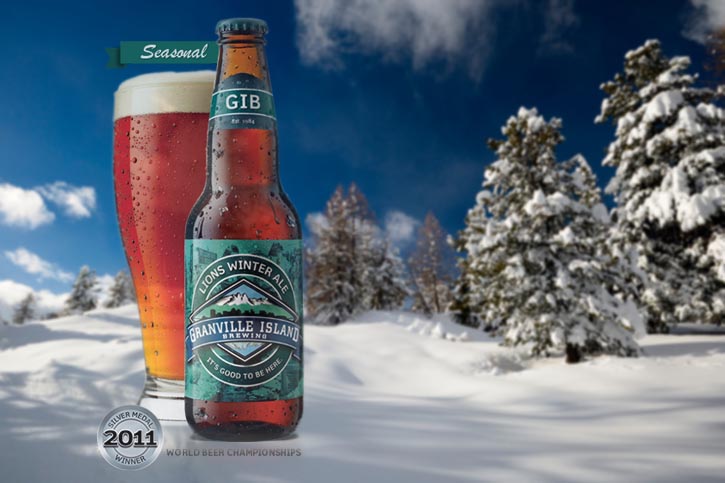 I was delighted to discover Granville Island Brewing products creeping into our markets about a year ago. At first it was the the Kitsilano Maple Cream Ale, one of many I'd enjoyed at a tasting when I visited their eponymous Vancouver brewery a few years back. Then appeared their Robson Steet Hefeweizen, and subsequently the English Bay Pale Ale.
Canada's first microbrewery, Granville opened in 1984. In what some would describe as a disturbing trend, they were purchased by Molson Coors in 2009, who also scooped up Creemore Springs in 2005. But the brewing giant has all but allowed these small operations to continue on as normal.
Perhaps because of this acquisition, and subsequent distribution privileges the "small" brewery has continued to introduce new products to our market. Their latest, a seasonal Lions Winter Ale hit MLCC shelves in mid-October 2012.
"Our Lions Winter Ale is a local favourite, so we're really excited to bring it to craft beer fans in Manitoba," says GIB brewmaster Vern Lambourne. "We've combined premium malt with aromatic specialty hops but the white chocolate and vanilla-like finish of this robust ale is what it's best known for. It's a great excuse to get out of the cold Manitoba winter weather and enjoy this seasonal favourite!"
GIB's Lions Winter Ale combines Crystal, Vienna and Munich malt with aromatic and mildly bitter Cluster and Mt. Hood hops which balance its sweeter flavours. It presents caramel and vanilla aromas and while the official description suggests it's a rich and robust flavour, I don't know that I'd go that far. I suppose it depends upon your reference point, but in this case I disagree with other bloggers who describe it as watery.
In my humble opinion, Lions Winter Ale is a subtle, even delicate dark ale whose light caramel and coffee flavours blend well with a background of well integrated spices like nutmeg and clove. These are more pronounced on the finish where I swear there's even a hint of mint. It's like Christmas in a glass, if you were to imagine sitting next to a freshly cut tree, the refreshing aroma of pine melding with the flavours of a slightly warmed fruit cake.
If you're used to drinking any of the mass-market lagers year-round, GIB's Lions Winter Ale is a great gateway to the many different beer styles and the concept of seasonal beer drinking. In short, it's an approachable, easy drinking dark ale that's perfect for any winter's night.
Look for 6-pack bottles of GIB's Lions Winter Ale in Manitoba Liquor Marts in for $12.95 from October to March.