Recipe: Savour's Own Sumptuous Mexican Rice
Happy Cinco de Mayo!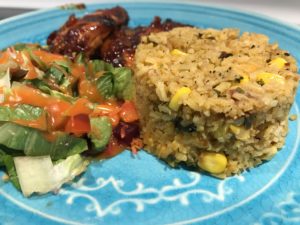 Savour's own sumptuous Mexican Rice
2018-04-21 12:35:54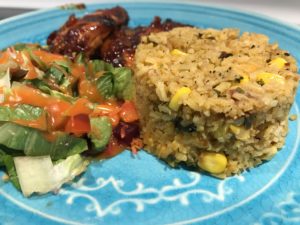 Serves 4
I love Mexican food--eating it, and cooking it. But for years one thing eluded me...a good rice side. After countless revisions I've created this version which, whenever served, friends and family can't get enough of.
Ingredients
2 Tbsp butter
1 medium onion, diced
1/2 cup frozen Corn
2-3 chipotle chiles in adobo sauce, chopped
1 cup rice
1/4 cup tomato juice
1 Tbsp tomato paste
2 scant cups chicken Stock
1/2 cup fresh cilantro leaves, roughly chopped
Lime juice (optional)
Instructions
Fry onions in butter over medium heat until they begin to soften. Season with salt and pepper. Add frozen corn and continue cooking 1 - 2 minutes. Add rice and allow to toast in butter until corn takes a toasted colour.
Add chopped chipotles, tomato juice and tomato paste. Stir until rice takes on the colour and is dry and clumping.
Add chicken stock scraping up any coloured, sticky bits from the bottom of the pan. Bring to a boil, cover and place in a 350 degree oven for 20 minutes.
Remove, uncover, gently fluff rice and transfer to platter. Garnish with cilantro and lime juice if using.
Savour Winnipeg https://juliechristensen.net/