Winnipeg restaurant taps into flavours of Spain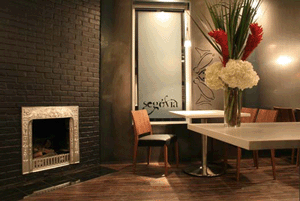 If ever there was a country whose customs I'd adopt, it's Spain.
Nowhere is there a country that understands better the benefits of drinking, snacking and napping.
When my parents dragged me there for a family vacation though, I hated it. There were no scotch eggs, fish fingers or Birdseye beef burgers. And retreating to the hotel room every afternoon while the entire city shut down for a pm snooze just frustrated me.
But now, with a hectic career, an almost all consuming passion for food and a penchant for late nights, I wish we could take a bite out of Spanish culture in Canada.
Thanks to Segovia, a Spanish restaurant in Winnipeg's Osborne Village, we can.
Segovia specializes in a serving style the Spanish have known and loved for centuries–tapas, small snacks served with alcohol.
The concept is that of Carolina Konrad and Adam Donnely, a chef whose apprenticeship at home includes top dining destinations Amici and Sydney's. He also worked for Michelin starred chef Tom Aikens in London, England.
But it was while working at Dehesa, a tapas restaurant ranked as one of London's best, that the couple became inspired to bring the tiny bite notion over the ocean. They spent 6 weeks travelling through Spain researching the wine and culture, shortlisting ideas for their menu.
Then the serious work began. Enlisting design mega-talent Fiona Sanipelli was a major coup. She transformed an Osborne Village townhouse into a super-chic and sophisticated space.
Dramatic wood doors only hint at the breathtaking interior which juxtaposes exposed brick and hardwood floors with steel walls treated with decal tattoos in the dining room. Chic white topped tables and a painted driftwood mobile punctuates dark floors and muted ceiling tones .
The centre-piece of a cozy bar is a chef's bar where up to four afficianados can watch Donnely as he deftly assembles dishes.
Stools hewn from tree trunks oppose a banquette while tall bar tables and silver stools offer a perfect perch to drink, chat and most importantly snack!
The menu, divided into bar snacks, charcuterie, cheese and tapas, affords a wide selection and modest prices, ranging from 3-12 for most items.

"The beauty about Spanish eating is that you don't need to order everything at once," says Carolina. "Start with 1-2 dishes per person and if you're still hungry you can always order some more!"
Whatever you do, start with the Patatas Bravas, Spain's most popular tapa–golden crisps of potatoes drizzled with spicy Bravas Aioli.
Traditional Spanish fare continues with Salted Cod Croquetas, Tortilla (in Spain an egg and potato omelette) and a trio of the much revered Manchego Cheese with a Quince Preserve.
The charcuterie section reads like a Top Chef shopping list–Serrano Ham and food world wonder Jamon Iberico, a beautifully sweet and nutty cured meat courtesy of the black-footed pig of Iberico which spends it's life roaming free, gorging on acorns.
Try sharing a charcuterie board (I failed miserably as my wife can attest). It features a selection of cured meats (chorizo, salchichon, pork loin to name a few) served on a delightfully rustic hardwood platter. These delicious delicacies need no adornment, but pickled gherkins and beets were welcome accompaniments, the acidity bringing a nice contrast to the rich meats. I could take or leave the Guinness Grainy Mustard. Delicious alone, I felt it overwhelmed, sometimes even clashed with some of the charcuterie's more delicate flavours.
The Grilled Hangar Steak was a satisfying mountain of perfectly cooked beef topped with horseradish salsa verde. Beets lift the dish to another level, literally, forming a raised bed for the shaved steak, and bring a beautiful balance of sweetness. For those whose palates can bear it, a punchy and pungent Valdeon blue cheese boosts the dish into a whole other flavour dimension.

Chickpeas with Morcilla (blood sausage), Spinach, Apples and Raisins was a bowl of sheer comfort, however, the sweetness of the fruits, coupled with the richness of the blood sausage wasn't offset entirely by the bitterness of the spinach. To no avail I looked to the chickpeas to bring a little salt for balance. A fine dish nevertheless, perhaps best reserved as an overture to dessert.

Speaking of which, I was delighted to learn they featured the classic Dulce de Leche (a caramel made with condensed milk) drizzled in perfect portion over Torrija, a brioche bread pudding of sorts, garnished with whiskey soaked apples.
I highly recommend the Cinnamon dusted Churros with an indulgently thick Spanish Hot Chocolate. What a combo! The churros sported a super crisp exterior and fluffy interior. The sugar and starburst shape a wonderfully suited to dunking. I think double dipping would be forgiven.

As you would expect, Segovia features an extensive list of Spanish wines, from the economic to astronomic. But an enomatic wine dispenser, which keeps bottles effectively sealed, grants access to some of the more expensive quaffs.
There's also cava (sparkling wine) which can hold its own against most champagnes (at least the ones I can afford) and a number of Sherries–not those sickly sweet ones your grandmother serves at Christmas–good Sherry in a delightful range of flavours and finishes.
Respectable brews for beer lovers too. High praise for tapping home grown Half Pints' Bulldog Amber and St. James Pale Ale as well as Fort Garry Dark. Estrella (a light lager) is the only Spanish sud, but Hoegaarden, Peroni, Anchor Steam, Asahi and Heineken offer plenty of possible pairings.
Take a lesson from the owners on this one…waste no time exploring Spain. Do it soon, do it often, do it one or two bites at a time at Segovia.

Hours are 12 to 3 and 5 to 12 Wednesday though Saturday. Sunday and Monday 5-12. Sorry, no reservations.

Segovia Tapas Bar
484 Stradbrook
Winnipeg, Manitoba
477-6500
(no reservations)