Winnipeg micro brewer selling out…and proud of it
Winnipeg's Half Pints Brewing Co. launches new brew to celebrate "selling out."
Ever since Half Pints Brewing set up shop in 2006 they've been gaining recognition and accolades as a craft brewer.
But the prevailing perception of the beer consuming public is that craft brewing and commercial success are almost mutually exclusive ideals. Indeed, many production techniques for craft brews are more costly, but Half Pints Brewmaster Dave Rudge is finding a defiant balance in his portfolio of products.
With a sud for every season, nay, every month of the year, and several special edition brews, there's something for everyone at Half Pints. The brewery's full-flavoured flagship beers–Little Scrapper IPA, Bulldog Amber Ale and Stir Stick Stout–have all enjoyed commercial success. But their St. James Pale, a lighter, more approachable but nevertheless flavourful ale well-suited to summer, has become a perennial favourite, surpassing all others in production and sales.
This has earned some harsh criticism from many beer aficionados who fear it means the micro brewery has sold out, choosing wider margins over big flavour. They couldn't be further from the mark.
The St. James, like its eponymous neighbourhood, stands as a wonderful gateway to a landmark in Winnipeg's culinary landscape. Routinely selling out at the MLCC, its commercial success also affords the brewer freedom to explore and experiment with so many other styles.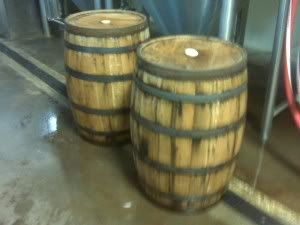 Instead of criticizing, we should be celebrating.
In fact, Half Pints is planning to do exactly that. And what better way than with (you guessed it) a custom keg for the occasion.
Those of you at Half Pints' annual open house on December 5 might remember brewmaster Dave hinting at just such a special sud right around the corner. For those of you to whom this is news…welcome to right around the corner.
Set for release on January 16 (coincidentally Dave's 35th birthday) the special edition $ellout $tout has been coming to maturity in some used Crown Royal barrels scored from the distillery up the road in Gimli.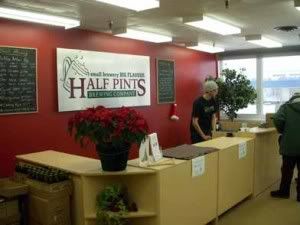 Even before the new brew began to pick up spicy, oakey notes from the whiskey barrels, Dave had added a tun of flavour (tun pun intended) with a couple of bells of Jaggery, an unrefined sugar popular in Asia, Africa and South America. The result is a rummy, ridiculously malty concoction of 8.4 % a/v (alcohol by volume).
Even as I write this, it's poised to be siphoned into 660 ml "bomber" bottles, hearkening back to the early days of Half Pints brews. Thumbing his nose at critics, Dave commissioned Darren Merinuk to design a special label that depicts a punky kid floating down a river of beer with a fistful of barley in one hand and cash in the other.
Due to the unique bottle size, this one won't be coming to a liquor store near you. The special edition will only be available through Half Pint's retail store at 550 Rosberry.
Half Pints' Brewery hours are:
Monday-Friday 9am – 6pm
Saturdays 9am – 5pm
Half Pints Brewing Company
550 Roseberry Streeet
Winnipeg, Manitoba
(204) 832-7468