Recipe: Harvest Gouda and Vegetable Chowder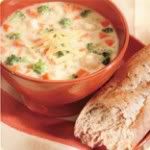 Makes 4 to 6 servings
Ingredients
1 tbsp (15 ml) butter
1 medium onion, chopped
2 cups (500 ml) each: chopped cauliflower, broccoli and carrots
2 cans (10 oz / 284 ml each) low-sodium condensed chicken or vegetable broth
2 cups (500 ml) milk
1/4 cup (50 ml) all-purpose flour
1 1/2 cups (375 ml) shredded Bothwell Gouda cheese
Preparation
Melt butter in large saucepan. Cook and stir onion over medium-high heat until tender. Add cauliflower, broccoli, carrot and condensed chicken broth. Bring to boil. Reduce heat, cover and simmer 10 minutes or until vegetables are tender. Whisk milk into flour until smoothly combined; add to saucepan. Cook and stir over medium heat until mixture boils and thickens. Remove pan from heat; add 1cup (250 ml) cheese and stir until cheese is melted. Sprinkle the rest of cheese and serve.
Source: http://www.nutrition2011.ca/en/recipes/healthy-recipes
Do you have a kick-ass recipe you'd like to share. Drop us a line.