Recipe: Yogurt Panna Cotta with Raspberry Coulis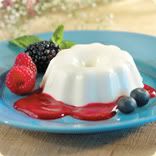 Makes 6 servings
Ingredients
1 flavourless gelatin packet
1 cup (250 ml) milk
2 cups (500ml) vanilla yogurt (about 2% m.f.)
1 tsp (5 ml) grated lemon rind
3 tbsp (45 ml) lemon juice
Raspberry Coulis
10 oz (295 ml) fresh or thawed frozen raspberries
1 tbsp (15 ml) sugar or more to taste
Preparation
Mix gelatin with 1/4 cup (60 ml) of the milk and leave 10 minutes. Heat remaining milk but don't boil. Remove from heat and stir in gelatin until completely dissolved. Let cool 5 minutes. Add lemon rind and juice to yogurt. Blend milk into yogurt. Pour into six decorative molds or ramequins and refrigerate until set – at least 4 hours.
Source: http://www.nutrition2011.ca/en/recipes/healthy-recipes
Do you have a kick-ass recipe you'd like to share. Drop us a line.