How to Make Your Own Frozen Yogurt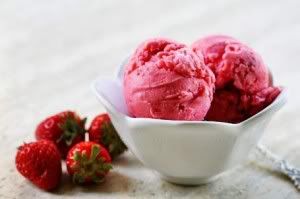 I'm fussy. Especially when it comes to fruits and veggies. Seldom do I find a pre-made option that suits my tastes, particularly when it comes to yogurt, and frozen yogurt.
Believe it or not, frozen yogurt is easy enough to make at home and all it takes is three easy steps:
1: Pick your yogurt
Nowadays yogurt comes with fruit variants such as blueberry, apple, peach and strawberry. Brands like Yoplait, Danone and Marigold will have more than enough options for you to choose from. You can use any of these to make delicious frozen yogurt or start with a plain yougurt and blend in your favourite fruit and berry mix.
TIP: Buy your favourite individual size yogurt, pierce the lid with a separated disposable chopstick and freeze. Easy, frozen yogurt creamsicle!
2: Put it in the freezer for 2 hours
It really is that easy. Depending on the size of your container and type of yogurt, allow at least 2 hours. A quick check to see if the yogurt has hardened is to simply squeeze the container. Hard means done.
TIP : If it's too solid to scoop, take the yogurt out 15 minutes before serving.
3: Get a spoon
Enjoy your delicious yogurt ice cream. Go ahead and have one snack every day of a different flavor. Since it's a healthy food and only 100 calorie per serving, there's no reason to feel guilty about eating one every day.