How to Choose a Wine for your Wedding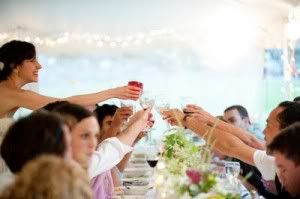 Barring the blip in an otherwise wonderful spring, the warm weather reminds us that wedding season is right around the corner.
This month's column is inspired by a regular reader, and soon to be betrothed, Row. He writes:
"I am a relative newcomer to all things wine-related. I consider myself to be a beer-drinker, but have been making an effort over the past few years to include more wine in the rotation. The column you write at Savour Winnipeg is entertaining and very informative.
I'm in the middle of wedding planning and am stuck in regards to red and white wine selection. We will be serving bison for dinner and my budget allows for a price of $15 per bottle (give or take a couple of dollars). My guest list is all over the map; I have wine connoisseurs and I have guests who don't care all that much about wine (include my fiancee in the latter group).
There are so many well-priced and lovely-tasting wines on the market, but I don't think my liver would like me very much if I tried to sample them all. Would you happen to have any recommendations for a red and white that fall in this price range?"
It's a really good question. A lot of people struggle with this, and that's because it's a tough issue.
For $15, you can do very, very well. The challenge is finding something that strikes a balance between being a crowd-pleaser for those who don't care as much about wine, but also satisfying the wine-drinkers in the crowd.
Given that this can often be a pretty large purchase, I would recommend doing a little bit of homework. I agree that sampling all of the options would be a challenge. But it might be worth heading to your local MLCC or wine store and ask to speak to someone about wines for your wedding.
Give them your price point and ask them for some advice (preferably more than one option). And then pick up a couple of the bottles, invite some friends over and do a blind tasting to see what goes over well.
As far as my own choices go, I'd stick with natural pairings. Choosing wines from the same country (or even the same producer) is a good way to go.
A nice Argentinian malbec pleases the crowds and can also win over the more discriminating palates. The Alamos Malbec ($14-ish at Specialty Wine Stores) is a winner, and there's a really tasty Chardonnay to go with it.
Torrentes (a white grape) is another popular option, although I find it a bit floral for my liking. You can also find some bargains in Chile as well (the Cono Sur line tends to be really good – especially the organic ones).
If you'd like to go off the beaten track, Italy can offer some amazing whites and reds for decent prices. Look for a Primitivo or a Nero d'Avola from the south, and pair it with a decent Pinot Grigio from the northern part of the country. The Quota 29 Primitivo (admittedly a bit more expensive at $16-17ish) is simply amazing, but there are plenty of lower price point options out there.
France also offers some affordable and decent options. I've never gone wrong with the 'Vielle Ferme' white & red. They're a bit sharper than the other options I've listed, but they show very well with food.
My last piece of advice is to make sure there's enough supply. Don't bother considering anything unless they can guarantee that they'll have enough on hand for you & your guests.