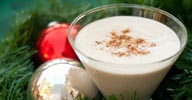 A recipe based on the classic Victorian drink that started it all.
Ingredients
2 cups whipping cream
1 cup half & half
6 large egg yolks
1/2 cup sugar
1 tsp ground nutmeg
6 Tbsp sherry (if using sweet, reduce the sugar)
1/4 tsp vanilla extract
Directions
Bring cream and half & half to simmer in large saucepan. Whisk egg yolks and sugar in large bowl until blended. Gradually whisk hot cream into yolk mixture. Return mixture to same saucepan. Stir over medium low heat until mixture thickens and leaves path on spoon when finger us drawn across (about 4 mins). DO NOT ALLOW TO BOIL. Strain mixture into a bowl. Stir in nutmeg. Cool slightly before serving. Divide into 6 cups and stir 1 Tbsp sherry into each. Sprinkle with nutmeg.