Life Saving Ideas for Last Minute Shoppers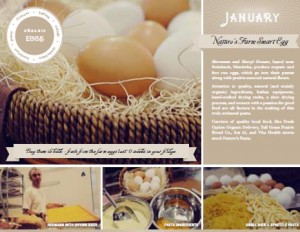 Looking for some last minute gift ideas for the foodie on your Christmas shopping list? Savour asked a few readers for their ideas, and here's what we've come up with.
Take a visual tour through twelve of Manitoba's most beautiful, sustainably managed and organic farms in this beautifully produced 2012 calendar.
Meet local farmers who are leading the way in sustainable and organic practices and find ways to connect with their goods both on and off the farm. Learn about the families, their farms, and how they nurture the animals and produce that makes its way from their farms to your family's dinner table.
$15 @ Tall Grass Prairie Bread Co., Vita Health (Fresh Stores), EatIt, Nature's Pasta, Organic Planet, Humboldt's Legacy, Prairie Sky Books, McNally Robinson, Stella's (Sherbrook), Sage Garden Herbs, Fresh Option Organic Delivery.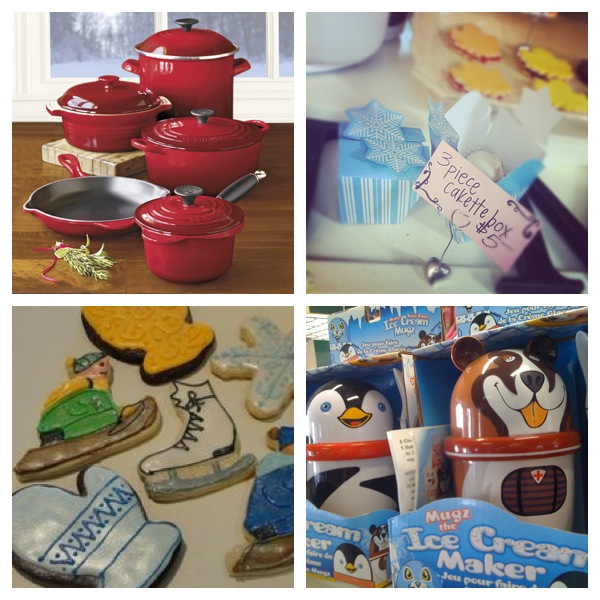 Cast Iron Cookware
Once relegated to campfire cooking, cast iron is back in the kitchen. It's durable, non-stick (you can get them pre-seasoned or enameled) and an amazing heat conductor. Blogger Elaina S. and food writer/explorer Shel Z. say they can't live without it, from fry pans to the indispensable dutch oven. Prices vary by piece and location.
Cakettes
A boutique bakery in the heart of Winnipeg's Exchange District, Cake-ology has quickly carved out a niche for itself by making some of the city's most wow-factor cakes. You don't have to wait for a special occasion. Enjoy cakettes, super miniature versions of the big boys, any time by grabbing an attractively wrapped 3, 15 or 30 piece box.
$5, $25 or $45 respectively.
Cake-ology
85 Arthur Street
Whether it's Christmas Eve snacking or a sweet little stocking stuffer, these winter themed cookies are as delicious as they are adorable. This is the gift that gives back, because inside this inauspicious store on Portage Avenue, you'll discover a treasure trove of chocolate treats, from bon bons and barks to amazingly themed moulds.
Chocolatier Constance Popp
1853 Portage Avenue
(204) 897-0689
Ice Cream Maker
I'm probably going to get into trouble for this, but mom was wrong–it's okay to play with your food. These super-cute ice cream makers turn churning into learning…it's like magic making delicious recipes for frozen treats. Just put ice, salt and water in the bottom of the character, then add yogurt, orange juice or chocolate milk to metal canister. Shake for 2 to 3 minutes, open up and spoon out the frozen treat. $ 19.99 at Toad Hall Toys.
54 Arthur Street
(204) 956-2195
Mandoline Slicer
Invented by the Italians, popularized by the French, this is a next level kind of kitchen gadget.
"I thought it would be a 'niche' kitchen gadget when I got it, but I use it all the time," says Savour reader Matt.
This surprisingly affordable Benriner model from The Happy Cooker comes with an all important hand guard, and three blades for julienne cuts.
$49.99
The Happy Cooker
464 Stradbrook Ave
Winnipeg's newest boutique store is brewing up some amazing business in Winnipeg's north east. Not only do they carry delicious, small batch roasted Green Bean Coffee, but some of the most amazing tea blends I've ever tasted! You'll also find an assortment of brewing and steeping apparatus, and other local products including John Russel honey. To save you time, they've compiled an assortment into these very attractively wrapped gift baskets.
$49.99
Exquisite Taste
2089 Plessis Road
(204) 222-5030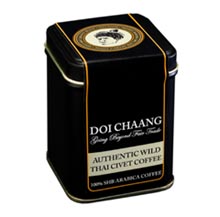 Civet Coffee
More exclusive (and expensive) even than the most prized Jamaican Blue Mountain or Kona Coffees, is this Thai import. Civet Coffee is named for the cat-like creatures that scour the coffee plants and greedily gobble the best, and most ripe beans. The magic happens post digestion. Gross as it sounds, connoisseurs contend that the digestive enzymes of the animal transform the flavour of the coffee. It's thoroughly cleaned and roasted of course. $60 for 2oz at The Canister.
121 Osborne Street
(204) 47400407
The Gift of Knowledge
From Wine appreciation to cooking techniques, there's always something to sink your teeth into in Winnipeg. Check out these education evenings at DeLucas, MLCC, and The Food Studio to name a few. Visit Savour's calendar of food these and more events for details and booking information.
Kitchen Aid Stand Mixer
Jennifer D. sang the praises of her stand mixer and we couldn't agree more. The Swiss Army knife of the kitchen, the super-stylish yet somehow retro Artisan can do it all, from batter to dough. And the wide range of attachments, like grinder, sausage stuffer and pasta dough roller gives you a gift you can build on for celebrations to come. Prices vary widely by style and location, so keep your eye out for some of those amazing sales.
A Soup Subcription
That's not a typo. A social enterprise that hires under-employed people in the downtown area, every Friday Soup Bee delivers delicious, hand made soups right to your downtown office or doorstep. Subscribe to weekly, monthly and everything in between soup service and they'll deliver chilled soup in re-usable, microwavable, freezable containers. A different recipe is featured each week and they'll send you an email ahead of time in case you don't want that week's feature. Pay only for what you want.
$10 vegetarian
$11 with meat
The Soup Bee
608 Broadway
(204) 218-768 (soup) or 774-7201