Recipe: Leftover Turkey Corn Soup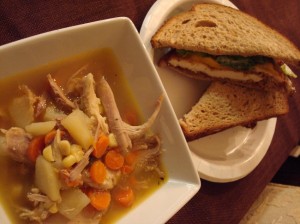 Savour those turkey leftovers with these refreshing recipes. No casseroles here…we promise.
If you're like me, you're sitting on pounds of leftover turkey and looking for a fresh way to make use of it all. Savour Winnipeg has you covered. We've rounded up a remedy for that tired old turkey casserole with a series of refreshing recipes for those lovely leftovers.
Ingredients
1/2 lb of leftover turkey (white or dark meat)
2 Tbsp (30 mL) butter
1 onion, diced
1 celery stalk, diced
1 carrot, sliced
2 Tbsp (30 mL)all-purpose flour
3 cups (750 mL) chicken stock
1 potato, peeled & diced
1/2 cup (125 mL) frozen corn
1/2 tsp (2 mL) thyme
1 bay leaf
Salt and pepper to taste
Directions
In a frying pan, heat butter and cook onion, celery and carrot for 1 minute.
Reduce heat to low and add flour. Mix and cook for 1 minute to get rid of that raw flour flavour, then add stock and bring to a boil.
Add turkey, potato, corn, thyme and bay leaf. Cook on low heat 15 minutes longer, or until potato is cooked.
Add salt and pepper, to taste. Optionally garnish with cilantro.