Recipe: Balsamic Turkey Pizza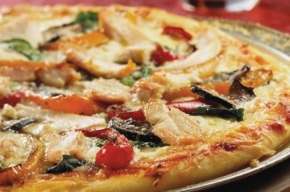 Ingredients
2 Tbsp (30 mL) olive oil
2 Tbsp (30 mL) balsamic vinegar
2 cloves garlic, minced
1 red pepper, thinly sliced
1 red onion, thinly sliced
1 Tbsp Italian seasoning
1 prepared pizza dough
all purpose flour, for dusting
2 Tbsp (30 mL) corn meal (optional)
1 1/2 cups (355 mL) pizza sauce
1 1/2 cups (355 mL) grated Mozzarella
2 cups (500 mL) cooked turkey, cut into strips
1 cup (250 mL) arugula
2 Tbsp (30 mL) fresh basil, chopped
1/4 cup (60 mL) grated parmesan
Directions
Set top rack of oven up to second highest slot. Place pizza stone on rack and and pre-heat to 450ºF.
Meanwhile, in a large bowl, combine olive oil, balsamic vinegar, garlic and Italian seasoning. Toss red pepper and onion in dressing and set aside.
Roll out prepared pizza dough on a floured surface. If desired, reduce the amount of dough and knead for a minute or two for a thinner, crispier crust. Sprinkle corn meal on pizza peel or inverted floured cookie sheet and place flattened dough on top.
Spread sauce over dough. Cover evenly with mozza, veggies and cooked turkey.
Slide out top rack to expose pizza stone and pulling gently from opposite side of pizza, tilt and jerk peel or cookie sheet to transfer pizza to hot stone.
Close oven and switch to grill. Allow pizza to cook for 5-7 minutes or until crust is cooked and cheese is golden.
Remove pizza from oven, allow to cool for 1 minute, then garnish with arrugula and basil.
Optionally season with salt, black pepper, grated parmesan and a drizzle of olive oil or additional balsamic.