Recipe: Leftover Turkey Pot Pie Two Ways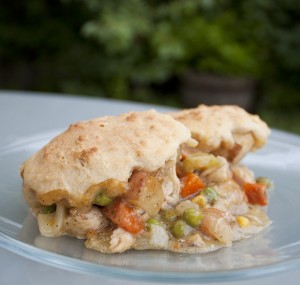 Two delicious takes on classic chicken pot pie using the turkey leftovers you're probably already sitting on.
Quick Turkey Pot Pie
Ingredients
2 cups chopped cooked turkey breast
2 hard-boiled eggs, sliced
1/2 cup thinly sliced carrots
1/2 cup green peas (cooked or frozen)
1/2 cup boiled potatoes (optional)
1/4 cup chopped celery (optional)
1 can cream of chicken soup
1 cup chicken broth
Salt and pepper, optional
1 1/2 cups instant biscuit mix
1 cup milk
1 stick melted butter
Directions
Preheat oven to 375 degrees F.
In a greased casserole dish, layer the chicken, eggs, carrots, peas and optional potato and celery.
Mix the soup and chicken broth and season with salt and pepper, if desired, then pour over the layers.
Stir together the biscuit mix and milk, and pour this over the casserole.
Drizzle butter over the biscuit topping and bake until the topping is golden brown, approx 30 minutes.
Individual Turkey Pot Pies
Serves: 4
Ingredients
1 package of frozen puff pastry
1 egg, beaten
2 cups leftover cooked turkey
salt and pepper
2 tablespoons cooking oil
1/3 cup butter
2/3 cup all-purpose flour
2 cups heavy cream
1/2 cup chicken broth
1 tablespoon minced garlic
1/2 small yellow onion, minced
1 cup peas, cooked
1 cup chopped cooked carrots
Pinch fresh grated nutmeg, optional
Special equipment: 4 (2-cup) individual baking dishes
Directions
Preheat oven to 350 degrees F.
Separate puff pastry into its constituent squares, then roll out to 1/4 inch thickness. Divide each sheet into 4 squares so you have eight in total.
In a large saucepan, melt butter and then slowly add flour, stirring until consistency of peanut butter, but not brown like a roux.
Stir in cream until incorporated with flour, then chicken broth, garlic, and onion and stir until thickened.
Add peas, carrots, optional nutmeg, and turkey. Remove from heat.
Line individual oven-proof bowls with base layer of puff pastry, then add chicken mixture and top each with a puff pastry lid. Repeat until you have 4 identical bowls. Don't worry about excess dough, you can either trim it off, or fold it around the the top.
Brush lids with egg wash then bake for 15 minutes or until browned. Any remaining pie filling may be frozen.
TIP: If you prefer, bake in one large pie dish. Just roll out the puff pastry squares into two sheets and trim excess. Or you can use a pre-made pie crust and top with puff pastry.