Wine Wednesday: Ladybug Rosé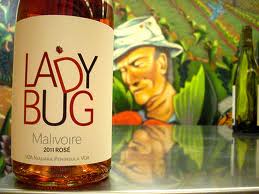 Malivoire Ladybug Rosé
Niagara's Malivoire Wine Company produces a number of excellent wines. The whites I've tried have been good, but are a little richer and more suited for cooler weather. But their "Ladybug" Rosé is perfect for one of those hot Winnipeg summer evenings.
It's a very Canadian blend of Cabernet Franc, Gamay and Pinot Noir (all well-suited for Niagara's climate) that shows nice berry aromas and a deeper flavour than you'd expect from a rosé. Plenty of crisp acidity and a very long finish make this a perfect match with just about anything.
You'll find this one at specialty wine stores for around $18. If you're going to share it with friends, make sure to have an extra bottle or two on hand, because you'll need them!