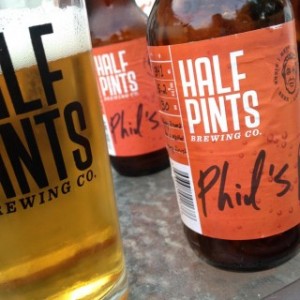 Well summer's certainly at its peak, and if you're going to beat the heat, there's no better antidote than nice cold beer. I bounce around between IPAs, Wheat Beers (Hefeweizen) and Pilsners. Ever a lover of local fare, enter Half Pints Brewing with Phil's Pils.
Phil's a real fellow. A real character, and a friend of good beer, so Phil's Pils must be an impressive ode to good taste.
It is, and (thankfully, Phil would say) it's the opposite of most Pilsners available today.
Brewed using two-row pale, melanoidin, and crystal malts, this lager is chock full of malty goodness on top of German hops.
While it's bigger flavours (strong malt and hops flavours at 30 IBU) and sturdy backbone (5.2% ABV) might not make it an ideal session beer, it should pair well with summer's best bbq foods like ribs, pulled pork, or burgers dripping with Pepper Jack Cheese.