How to find a farmer in 2014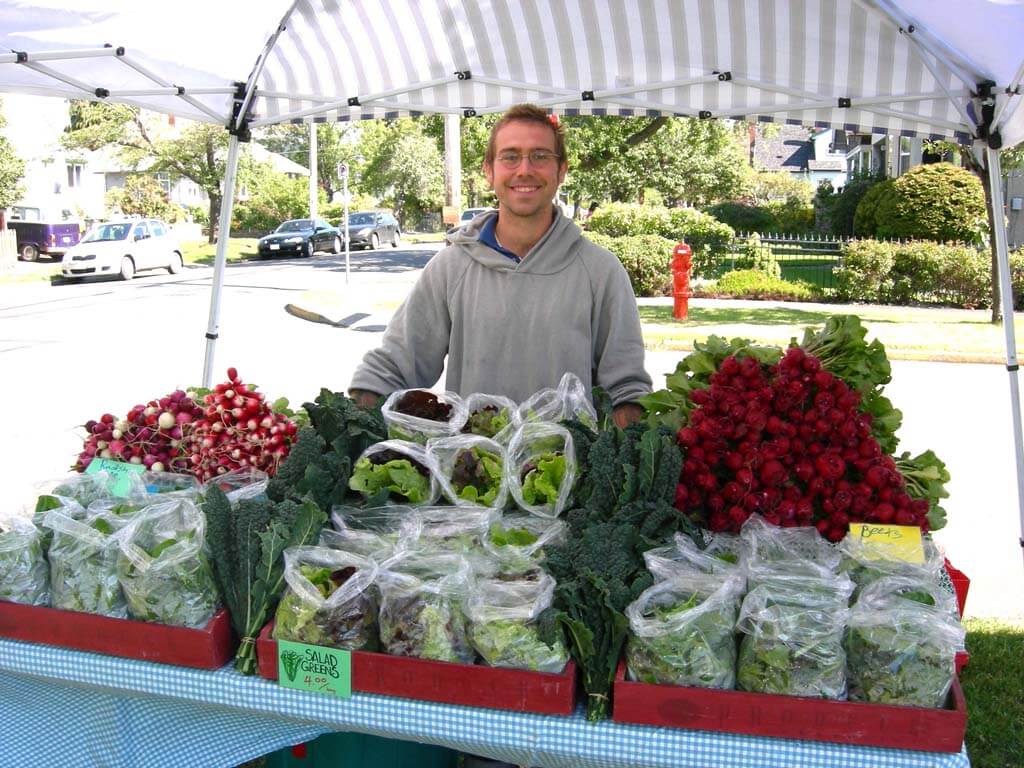 It's almost impossible to think about growing anything, what with the long winter we've had and incredibly slow thaw we're experiencing. But greenhouses in and around the city are already nurturing seedlings and gardening enthusiasts are already planning their planting and starting their seeds.
For those of who lack the space, skill, or inclination to manage large tracts of edibles, the Farmers' Market is the next best thing. Thankfully we don't all have to make the trek out to the biggest and arguably best Farmers' Market in (or just outside) the city, St. Norbert. Smaller iterations have been cropping up in many Winnipeg neighbourhoods over the last few years making it super convenient to find a farmer and score some amazing local produce.
Here's where (and when) you're likely to be able to do that in Winnipeg for the 2014 season.
Downtown Farmers' Market
Season Sneak Peek: Thursday, March 27 from 10 am – 4 pm
Thursdays, 2 p.m – 6 p.m.
June 5 – Oct 9
Portage Avenue – Manitoba Hydro Building Main Concourse
Red River Farmers' Market
Saturdays, 9 a.m. to 2 p.m.
3977 Portage Avenue (Portage Ave & Perimeter Hwy)
Red River Exhibition Association: 204.888.6990
www.redriverex.com
West Broadway Farmers' Market
Wednesdays, 4-6:30 pm
July 10 – Sept 18, 2013
669 Broadway , Thomson funeral home parking lot
www.westbroadway.mb.ca/good-food-club
Wolseley Farmers' Market
Tuesdays and Thursdays, 4:00pm – 7:00pm
980 Palmerston Ave. at Ruby St., Winnipeg
Le Marché St. Norbert Farmers' Market
Saturdays and Wednesdays
3514 Pembina Hwy., St. Norbert
Marilyn Firth, 204-275-8349
www.stnorbertfarmersmarket.ca
Le Marché St. Norbert Farmers' Market is Manitoba's largest farmers' market with over 100 vendors attending each Saturday and approximately 35 vendors on Wednesdays. Everything sold is made right here in Manitoba!
River Heights Farmers' Market
Fridays, 12:00 pm – 5:00 pm
River Heights Community Centre, corner of Oak St. & Grosvenor Ave.
Barbara Coombs and Stephanie Barke, 204-488-7000
www.rhfarmersmarket.com
Gas Station Arts Centre Village Market
Thursdays, 4 pm – 8 pm
445 River Ave, Winnipeg
Alixe Edwards, 204-284-9477
www.gsac.ca/village-market
The Forks Farmer's Market
Sundays, 11 am – 4 pm
July – October
Main Street Farmers' Market
Fridays, 2:00 pm – 6:00 pm
865 Main Street – Neechi Commons parking lot (Euclid and Main)
Jasmine Tara, 204-927-2342