Gusto controversy over blown, blown over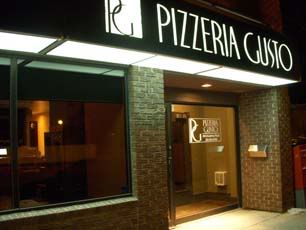 Talk about wood-fired
Pizzeria Gusto's state of the art wood-fired oven remained cold for more than a week, following the firing of head chef Scott Bagshaw last weekend.
Pizza doh!
In a shocking show of solidarity, much of the kitchen crew packed their knives and followed Bagshaw out the door forcing the restaurant to close.
Fanning the flames
The spark that ignited the fire was a series of Kitchen Confidential type confessions Bagshaw made during an interview with Red River College student Rhéanne Marcoux. Part of a school project, it's one of several articles documenting the experiences of Winnipeg chefs that will appear in a self-published, 100 copy run book titled The Last Crumb.
Where's the beef?
In the article, Bagshaw confesses to a number of high flying antics in his past. Yes, there were drugs. Booze…check. Wild parties…hell yeah. But the owners were quick to acknowledge we've all got our pasts and they wouldn't hold that against anyone.
What fueled the firing was Bagshaw's revelation that while on display for his culinary merits in Gusto's front-of-house kitchen, he and his sous were admiring the physical merits of female clientele–something he refers to as the "Would you sleep with her?" game.
Food fight
News surrounding circumstances of the dismissal quickly spread. Several articles appeared in newspapers and on websites. It even went national with an article in British newspaper, the Guardian. Comments sections overflowed with opinions falling sharply on both sides. That the chef was dismissed unfairly. That the owners were within bounds.
What it all boils down to
Nobody's naive here. We've all played the game at one time or another. It's safe to assume it's happening elsewhere, just as its safe to assume some restaurants recycle the bread, or hold product in the walk-in longer than ideal. But you don't advertise the fact.
Bagshaw advertised. His irreverent comment sent a message to every woman walking into Pizzeria Gusto that all orders would be served with a side of sexual objectification. That they'll be looked up and down…ogled…judged as a matter of course. Nobody wants a piece of that. That's why we have laws against workplace sexual harassment. But those laws don't protect customers. That's what the management is for.
Any way you slice it
Pizzeria Gusto is a business. The purpose of a business is to make money. It makes money by building a brand and loyalty to that brand. PG's brand is upscale Italian. It's a classy, family inspired place that's great for a date, dinner with clients or a girls' night out. It's a unique opportunity to sit at the chef's station, get a behind-the-scenes look at the process, experience the drama of sizzling dishes emerging from a 900 degree wood oven. Bagshaw, by admission of his practice, alienated half the market. He became a liability to the brand.
Just desserts
Pissed he was dismissed doesn't even cover it. There have been promises of vengeance, hopes that the restaurant will fail as a result. Seriously!? If Bagshaw is even half the talent he's hailed to be, he'll find a new venture. But it's foodies, the consuming public, and the chef himself, not the Mottolas, who will make him or break him.
Haute cuisine
In the midst of the mud slinging, the shadows of doubt and mis-information, a high class act shines bright over Winnipeg's culinary landscape. The Fort Garry lent the Mottolas a chef. Working with a new hire, he's helped recreate the Pizzeria Gusto menu. Ten days later, the restaurant is open again.
Further reading
CBC – http://www.cbc.ca/canada/manitoba/story/2010/03/29/man-pizzeria-gusto-bagshaw-fired.html
Winnipeg Free Press – http://www.winnipegfreepress.com/local/breakingnews/not-making-any-dough-here-89379507.html?viewAllComments=y
Winnipeg Free Press – http://www.winnipegfreepress.com/local/pizza-chefs-firing-no-surprise-89826212.html
The Guardian – http://www.guardian.co.uk/lifeandstyle/wordofmouth/2010/mar/31/chefs-macho-memoirs