Savour Winnipeg's Going Wild About Mushrooms
For six years we've been teaching people what grows wild and is good to eat through the Fantastic Forest Forage. In that time we've shown over 500 people–Winnipeggers, tourists, chefs, foodies, survivalists, couples on a date, families, seniors, kids–how to protect and respect our environment, and celebrated what's unique about Winnipeg.
Each and every year, we've been asked about mushrooms: where they grow, which are the good ones, and most importantly, which are bad. For many reasons, it's a subject we've avoided. Until now.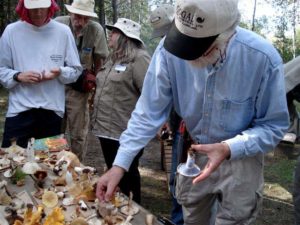 Truth is, we don't have a great many mushroom hordes here in the city. But Manitoba is home to some truly fantastic mushroom habitats. It takes a while to discover them, and a while to get to know the fungi that have taken up residence. We've been exploring these sites. We've gone on occasional field excursions like this one (pictured left) offered through the Nature Manitoba and led by Dr. David Punter, retired professor of botany at the University of Manitoba.
And we've sat through presentations like this one offered through the Winnipeg Leisure Guide at the Assiniboine Park Conservancy.
We've attempted, over the years, to engage with experts and other guides to offer a mushroom experience to our Fantastic Forest Foragers, but the sad truth as I've stated in past posts is there are fewer and fewer willing to share this knowledge, and fewer still willing to share their hunting grounds.
It was time to take matters into our own hands. Armed with field guides like my favorite Audubon Society, and learning from other pickers along the way, we're ready to share that knowledge.
Introducing SavourWinnipeg's Wild About Mushrooms, an all new guided experience that will introduce you to some of the preferred climes, teach proper harvesting techniques, and the right steps in identifying good vs. bad (and deadly) and how to safely introduce new mushrooms to your dietary repertoire.
Our first takes place in just over a week (August 26) and will focus on what's in season right now which should include: Puffball mushrooms, Boletes (prairie porcini anyone?), Lobster Mushrooms (not a mushroom) and the most prized and priced accordingly Chanterelle.
We'd love to have you along, but space is limited and tickets are selling fast.